NFTs took the world by storm in the past year. The phenomenon appeared to be pretty unreal, with influential people, celebrities, and organisations all hopping on the bandwagon. Imagine this, it's a fine Monday morning. You wake up, have a hot cup of coffee and get ready to log into an NFT game, not for your office. You check messages from your fellow players instead of your emails, instead of getting stuck in the traffic while commuting to your office you are racing down the streets of a metaverse to bag that prize. The prize which will be paying your bills for the rest of the month. This might sound like a dream but it's all becoming a reality all because of the blockchain and NFT games. Before we get deeper into the concept of top NFT games let's refresh a bit about the basics.
What are NFTs?
NFTs stand for "Non-fungible tokens". To understand the meaning of this word, let's break it down into two parts – 'non-fungible' and 'tokens'.
In the context of finance, the term "non-fungible" refers to something that is either one of a kind or that cannot be exchanged for anything else without the value of the original asset changing in some way. A sports card is a good illustration of a non-fungible token that may be found in the real-world collected things sector. The wear-and-tear on a sports card, as well as the serial number, are two of the aspects that contribute to the card's one-of-a-kind status. It is not possible to trade two different sports cards without one of the cards increasing or decreasing in value.
The same may be said about a digital token that cannot be exchanged for another. These NFTs have unique metadata, which distinguishes them from the other NFTs in the same collection and from the NFTs in other collections. Although it will always be the case that 1 Bitcoin is equivalent to 1 Bitcoin, this cannot be said for NFTs. One CryptoPunk does not automatically equate to another CryptoPunk, nor does one Bored Ape automatically equate to another Bored Ape, and so on.
The second part of the acronym is "token," which explains where NFTs come from and what role they play. NFTs are stored on blockchains, which are digital ledgers that track transactions. Ethereum and Solana are two popular blockchains for NFTs. However, unlike a blockchain's native asset (called a "coin"), NFTs are something that is created by a user of the blockchain hence they are considered a token that holds a certain value.
What are NFT Games?
An NFT game is any game that uses non-fungible tokens (NFTs), which represent a specific portion of the game that a player can obtain. The more you play, the more challenges you complete and the more you level up, the more NFTs you get. The sole distinction between this and any other video game is that any virtual goods you acquire during play belongs to you once the round is over. You, not the company that developed the game, are the one who owns these assets in their entirety. You will be able to buy, sell, or trade these assets on the various marketplaces as they are stored in your wallet.
You can even transfer your assets from one game to another as it's all stored on the blockchain. The blockchain technology on top of which these games are built enables this functionality and provides a full architecture for the gaming platform, which stores entails, and secures the ownership of the in-game assets.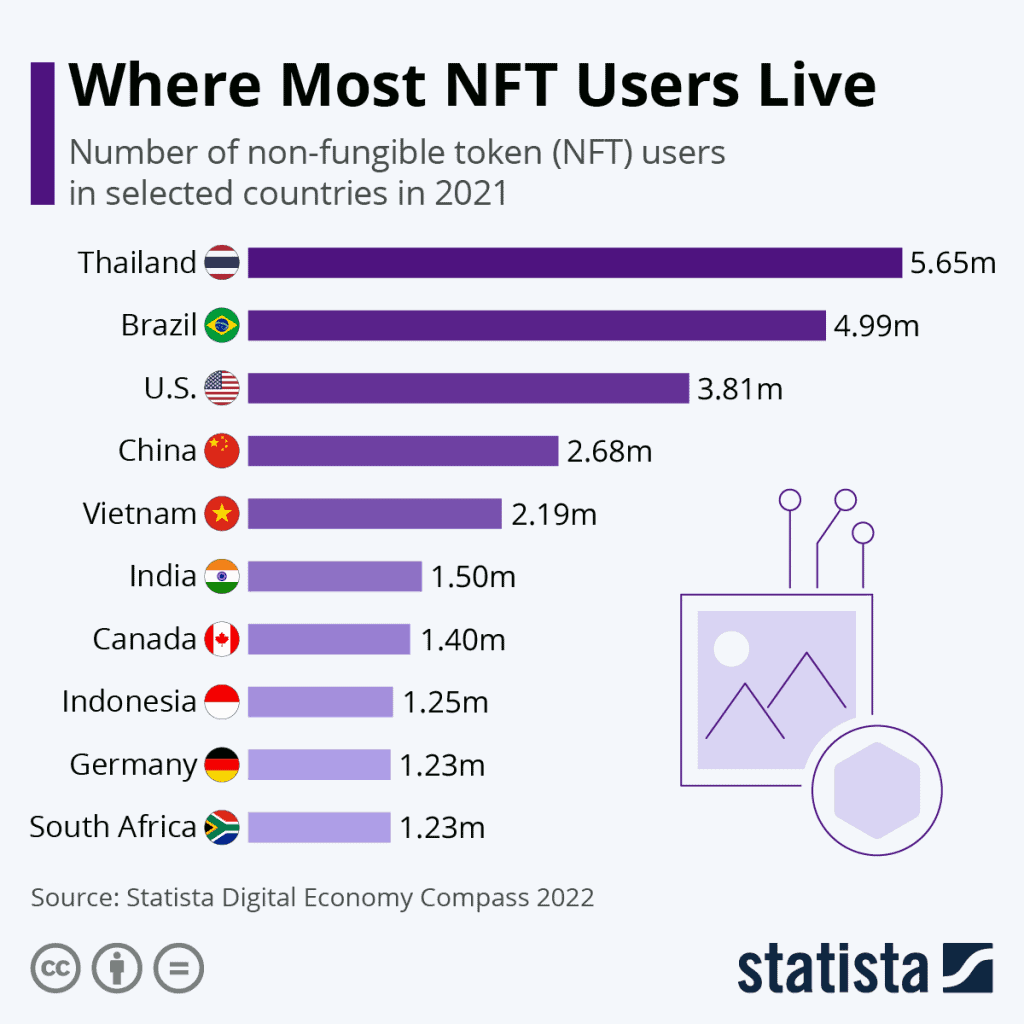 How Do These Top NFT Games Work?
Top NFT games work in a different way than our usual video games because they have their own economies. These are also referred to as "play-to-earn" games and the economics built around these games is known as "GameFi". Some of the things that make up this digital economy are:
An NFT Marketplace 
It is simply a place where players can buy or sell their game NFTs. Most of the time, they work like a free market economy, with listings, package deals, auctions, sales of game assets, and so on. Think of the economies in World of Warcraft, but instead of a currency that doesn't mean anything, real money is traded.
Cryptocurrency
Most of the money that is traded is done so with cryptocurrency. Most top NFT games have their own cryptocurrencies that control how people interact in the market. You can buy things with cryptocurrencies, get paid with them, and even trade cryptocurrencies for real money (USD, for instance).
DAOs
If a game has a lot of big groups that control how the world works, the people who made the game might break them up into DAOs. These groups, whose names stand for "Decentralized Autonomous Organizations," vote to act as a group on an issue. Most of the time, a gamer's voting power comes from things like how much in-game crypto they have.
Blockchain
It goes without saying that top NFT games work on the blockchain, the distributed ledger that keeps track of transactions. Blockchains are open, which means that anyone can read them. If someone knows who owns a wallet, they can follow that person's every (financial) move.
Additional Read: How Much Does Unity Game Development Cost?
Top NFT Games That are Worth Your Time and Money 
| | | | | |
| --- | --- | --- | --- | --- |
| Name | Description | Genre | Blockchain | URL |
| Axie Infinity | Released in 2018, Axie Infinity is a turn-based game where players collect and battle with Pokemon-like creatures. | BREEDING, CARD, PVP | Ethereum, Ronin | https://axieinfinity.com/ |
| Sandbox 3D | The art style and gameplay resemble Minecraft, but they are many interesting assets that can be used within the game world. | MINIGAME, OPEN-WORLD, VIRTUAL-WORLD | Ethereum | sandbox.game |
| Gods Unchained | Gods Unchained is another battling trading card game. | CARD, COLLECTIBLE, PVP | Ethereum, Immutable X | https://godsunchained.com/ |
| Decentraland | Decentraland is a 3D virtual world metaverse platform and play-to-earn game consisting of 90,601 plots of land. | Metaverse, Virtual World | Ethereum | https://decentraland.org/ |
| Alien Worlds | Alien Worlds is a space-themed, browser-based play-to-earn game. | Fantasy, Space | Ethereum, WAX | https://alienworlds.io/ |
| Splinterlands | Splinterlands is a battling trading card game. | Card, PVP | Ethereum | https://splinterlands.com/ |
Axie Infinity
Axie Infinity, which was released in 2018, is a turn-based game in which players collect and battle with Pokemon-like creatures. It has had an incredible run, approaching 2 million daily active users and raising $152 million in Series B funding from the company behind it (Sky Mavis).
Axie Infinity, like most top NFT games, has a marketplace where you can buy and sell items. In fact, the only way to begin playing the game is to purchase three Axies from the marketplace, which can cost hundreds of dollars.
Sandbox 3D
Sandbox 3D is a voxel-based title and one of the most recent top NFT games, which means it has a large number of unique in-game objects that can be traded or exchanged.
The art style and gameplay are similar to Minecraft, but there are many interesting assets to use within the game world. It is a metaverse title with a lot of depth and interesting features, making it a great place to explore and express creativity. The market features a variety of NFTs such as avatars, equipment, art, land, and real estate.
Gods Unchained
Another fighting trading card game, Gods Unchained advertises itself as "Free to Play, with Real Money Rewards." The creators of the game do this by giving away starter decks of cards for free. After that, they can engage in battle or visit the market to acquire more cards.
Strategy is key to victory in Gods Unchained battles. Different cards have different stats, like health, mana, strength, and so on. The game's special features are meant to make the fights fairer. Given that there must be a winner in any competition, the designers incorporated a mechanic dubbed "bag of tricks" to try to level the playing field.
Additionally, a token named $GODS has been produced for use in tournaments for Gods Unchained. Tokens were distributed via airdrop to anyone who joined the game's closed beta in 2018.
Decentraland
Create, explore and trade in the first-ever virtual reality game world owned by its users thanks to the ethereum blockchain. Explore lands owned by users to experience incredible scenes and structures. From a space adventure to a medieval dungeon maze to entire villages crafted from the minds of community members. Own a piece of land and build whatever is on your mind into this world of infinite opportunities.
Alien Worlds
This play-to-earn game involves acquiring Trilium (TLM), which is utilised to achieve control in the Planet Decentralized Autonomous Organizations (also known as Planet DAOs), as well as for unlocking further gameplay. It provides a simulation of business competition and encourages players to take part in council candidate elections or even run for a seat on the planetary council themselves.
In this NFT Metaverse, players are able to mine Trilium, conduct battles, and go on missions by discovering NFTs, which can then be employed in those activities. Players can also go on missions by mining NFTs. NFTs can be found in a variety of rarities and shine levels, both of which influence how valuable they are in the game.
Splinterlands
Splinterlands is an NFT card game that allows players to earn as they play and has similar gameplay. Each card has a different stat, mana cost, level, experience, ability, and Splinter/rarity. You can find cards that allow you to restore health, do double damage, reduce speed, and more.
Players can trade their cards with anyone or rent them out to other players. They can also combine different cards to gain levels or even convert cards to crypto. Splinterlands cards are also compatible with third-party marketplace platforms such as Monster Market, PeakMonsters, and Open Sea so you can sell on multiple platforms.
On Splinterlands, you have the opportunity to win rewards by participating in tournaments and ranked play. Players can also go on quests to earn these rewards, which may be magic potions, card packs, collectible cards, and Dark Energy Crystals. Crystals serve as digital currency that can be traded or used for making purchases in the shop.
Top NFT Games: Conclusion
The top NFT games are essentially virtual worlds in which in-game collectibles are represented by non-fungible tokens that can be purchased and sold. The participants have complete control over these tokens and are therefore free to use them as they see fit. As a result of decentralised blockchain technology, the items in the top NFT games are no longer restricted to a single game world, and the firm behind them does not have complete control over them. However, NFTs are still in their infancy, and many of these games have yet to implement their plans. Therefore, use caution before jumping in.